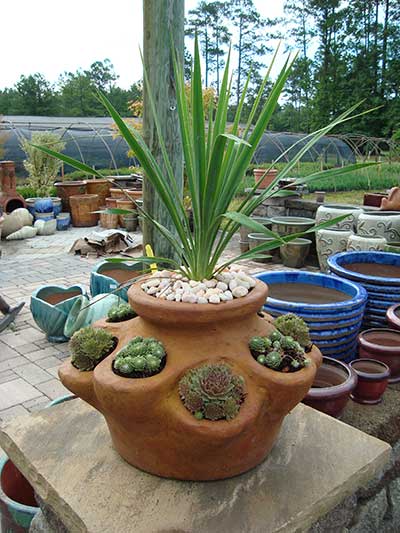 Feel free to walk or drive our 40-acre property. GCN grows containerized plant material, meaning all our plants are grown in pots. We currently have plants ranging in size from 1 gallon up to 65 gallon pots. We offer a large selection of shrubs and trees and carry annuals and perennials seasonally. Ninety-five percent of our plants are propagated and grown from cuttings right here in the nursery. Occasionally we bring in different cultivars and specialty plants, and if you do not see what you are looking for in our price sheet, please ask, we will work to locate it for you. For special orders, freight charges will apply.
GCN offers landscaping and lawn maintenance services and would be more than happy to install your plants for a fee. If you do not have a truck to transport your shrubs or trees, we also offer delivery services (freight charges vary depending on distance and current fuel prices).
Thanks for shopping locally at Grants Creek Nursery. Our nursery is continually growing and improving and your business is greatly appreciated. To ensure your continued patronage and support, please feel free to share your comments and suggestions.
Business Hours
Hours:
Monday - Friday - 8:00 am - 5:00pm
Saturdays
March through June 9:00 am - 4:00 pm
July through mid-Nov 9:00 am - 2:00 pm
Sundays - CLOSED
Closed for the following Holidays:
New Years Day
Thanksgiving (Thursday & Friday)
Christmas Eve & Christmas Day
Occasionally on Saturdays in late summer & fall we might close early due to a lack of foot traffic. Please feel free to call ahead to check our hours for that Saturday.
Pricing and Payment
We accept the following forms of payment – Cash, Check, Debit, Visa, Mastercard & Discover. There is a $25 Service Charge for all returned checks. Prices are subject to change without notice.
We strive to provide a quality product at a competitive price and therefore we do not offer further discounts. If we don't have the answer, we will try our best to find it for you.
ALL SALES ARE FINAL – plants cannot be returned for any reason.
Guarantee
We exercise every precaution to ensure plant material is healthy and true to name. GCN makes no guarantees or warranties, expressed or implied, beyond the point and time of sale. HOWEVER, we do extend a 1-year warranty on plant material that WE install if it is purchased from our nursery. We do NOT guarantee Sabal Palms.
Email us: [email protected]